Member Groups
---
47 401 Project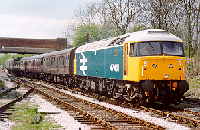 47 401 (formerly D1500), the first of 512 Class 47s, entered traffic on 28/9/62 and was maintained by Eastern region depots throughout its working life, spending much of its time on express passenger duties on the East Coast Main Line and was appropriately named North Eastern on 16/12/81. 47 401's final years were spent on freight duties, the loco continuing in service for longer than expected due to problems with the new Class 60s.
Following withdrawal in 1992, 47 401 was sold to the 47 401 Project and was delivered to the Midland Railway Centre on 7/7/93.
In 1994 the Project purchased 47 417 to provide spares for 47 401 but is a possible restoration project in its own right in the longer term, subject to sufficient resources being available. 47 417 is cosmetically restored in two-tone green as D1516.
New supporters are always welcome and we are especially keen to hear from anyone who would like to help with the upkeep of 47 401.
We produce a quarterly magazine Forty Seven Forum containing the latest news on 47 401, other preserved 47s plus main line operations. A subscription to FSF costs £4 p.a. and is available from 47 401 Project, 21 The Oaklands, Droitwich Spa, Worcestershire, WR9 8AD. Please make cheques/POs payable to "47 401 Project". Also please send SAE for details of our Class 47 Data File books and colour photograph collection.
A1A Locomotives Ltd.
A1A Locomotives Ltd. is dedicated to Class 31 preservation, and its four loco's are all based at the MRC. 31 162 is fully operational and restored to near original condition. It carries BR blue livery and its pre-TOPS number 5580. Its overhauled train-heating boiler, formerly carried by 31 225, became operative in early 1999, making 5580 the first 31 to "steam" in preservation. 31 108 in BR Railfreight Grey livery, is on loan to the Nene Valley Railway. 31 271 was acquired as a valuable source of spares but has been rebuilt and carries Railfreight Construction livery. 31 418 was donated in 2002 and is undergoing long term restoration and requires a replacement power unit. This locomotive was the first of its class allocated to BR London Midland Region and was, for many years, the only disc headcode class member equipped with electric train heating (ETH).
The company raises capital by selling £20 shares. Membership and further details from Steve Clark, Financial Director, 50 Thrunscoe Road, Cleethorpes, North East Lincs, DN35 8TA (please enclose SAE)
Birmingham Railwayman's Crompton Workgroup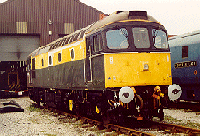 33 201The Birmingham Railwayman's Crompton Workgroup was formed in Feb 1997 by a couple of Saltley traincrew these were then joined by other rail staff until now the group has members at Saltley,Birmingham New Street,Bescot,York and London Kings Cross. The group successfully purchased 33201 in April 1997 from Stewarts Lane depot in London and the locomotive was moved to the Coventry Steam Centre until September 1997, when the group was accepted at the Midland Railway Centre, the locomotive arriving in time to be a static exhibit at the autumn diesel gala. It is hoped to restore the locomotive to working order by spring 1998.
33201 was built by the Birmingham Railway Carriage & Wagon Company, at their Smethwick workshops in Birmingham, during the end of 1961 and early part of 1962. The locomotive entered service on the southern region of British Railways in March 1962 numbered as D6586. She was the first of twelve engines with a modified body for working through the restricted tunnels on the Tonbridge to Hastings railway line this requiring the body width to be 9 inches narrower than normal. The additional work that this entailed is allegedly to have help bankrupt the company. The locomotive then settled down to an uneventful life until 1989 when it was the first class 33 to appear in the new civil engineers livery of all over grey. Withdrawal came in 1993 following 31 years of service. The class 33's were built with the foresight of the southern region being equipped from new with dual brakes and electric train heat, whereas other classes had to have these items fitted at a later date involving much rebuilding work.
Class 20 Locomotive Society
The society was formed early in 1981, with the aim of preserving an English Electric Type 1 (BR TOPS Cl.20) diesel-electric locomotive. The society has been successful in this aim and now owns three locos, 20 227 the last Cl.20 built, 20 205 and 20 001 (D8001).
Since being bought by the society, 20 001 has helped to build the Channel Tunnel and 20 227 has participated in several interesting assignments, These include providing the motive power for a rail crash test, operating track laying trains on the London Underground Metropolitan Line and taking part in the Steam on the Met events on LUL. The locomotive is currently in maroon livery. 20 227 also had the honour of being the first privately preserved diesel to operate a railtour on a UK public mainline.
20 001 and 20 227 are currently undergoing overhauls to their bogies and having other work carried out at Wabtec.
Membership enquiries to Dave Beecham, 58 Strafford Gate, Potters Bar, Herts. EN6 1PN (please enclose SAE). Other enquiries may be emailed to enquiries@ctls.org.uk
Website www.ctls.org.uk
Class 40 Appeal
The Class 40 Appeal was formed in 1985 with the aim to preserve an English Electric Type 4 (BR Tops Class 40) Diesel-Electric Locomotive. The group has been successful in this aim and now owns 40 012 (D212) Aureol.
During 1994 the group also purchased an English Electric Type 3 (BR Class 37) 37 190 Dalzell and another English Electric Type 4 but this time a Class 50, 50 007 Sir Edward Elgar, which represents a good cross selection of English Electric motive power.
D212 was built at Vulcan Foundary, Newton-Le-Willows, and entered service on B.R. allocated to Willesden, in May 1959. 37 190 was built at the Robert Stephenson and Hawthorn, Darlington Works and entered traffic in January 1964 numbered D6890. 50 007 was built at Vulcan Foundary and was originally hired to B.R., entering service in March 1968, numbered D407. The locomotive was eventually purchased by B.R. and on the 6th April 1978, was named Hercules, finally being renamed Sir Edward Elgar on 25th February 1984.
For futher details and membership equiries please send a SAE to C.F.A., 65 Darby Road, Wednesbury, West Midlands, WS10 0PN. CFA home page
Class 45/1 Preservation Society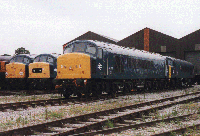 The Class 45/1 Preservation Society is the owner of 45 133 which was purchased in January 1990. The loco arrived at the Midland Railway Centre in May 1990, in working condition, from March depot where it had been since its withdrawal some 3 years earlier.
Since preservation 45 133 has performed solidly and has represented the MRC at various BR Open Days. The loco has also visited several other preserved railways, as well as covering over 2,300 passenger miles in preservation.
Although un-named in BR service, 45 133 was un-officially named Polythemus in May 1997, the name being one of the Greek names applied to the last Peaks by Tinsley in 1987. If 45 133 had remained in traffic a few more weeks this could have been the name carried. The name was carried for a year before a full repaint saw the loco emerge in 1980's ex-works condition.
New members are always welcome and share ownership and membership details are available from Steve Gross, 'Stretton', Cross Street, Farcet, Peterborough, PE7 3DD
D1048 Western Lady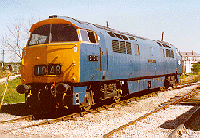 Having arrived at the Midland Railway Centre in March 1997, this locomotive is privately preserved and forms part of the Midland Diesel Group fleet, currently non-operational. Work is in hand to return the locomotive to full working order.
D1048 Western Lady was designed at Swindon and built at Crewe in 1962 and is one of seven preserved, ex BR class 52 diesel hydraulic locomotives withdrawn from BR service on the Western Region over 20 years ago.
Deltic Preservation Society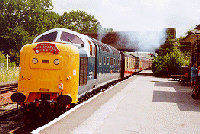 The Deltic Preservation Society was formed in 1977 with the aim of preserving a Deltic, but the society's success has resulted in three examples being purchased. One of these, 55 015 Tulyar, is based at the Midland Railway Centre.
Following withdrawal by British Rail in 1982 (after hauling the outward leg of the Deltic Farewell Scotsman), Tulyar was purchased privately for preservation in 1984, but two years later was sold to the DPS.
During the past ten years, Tulyarhas visited many other preserved railways for special events, in addition to making numerous appearances at BR Open Days. In 1997, the loco was taken out of traffic for a major body overhaul, which is currently being carried out by DPS members at the Midland Railway Centre. This will ensure the locomotive's survival for many years to come.
The DPS is one of the largest locomotive preservation groups in the country, with over 700 members. To find out more about its activities, and for a sample copy of Deltic Deadline, the society's bi-monthly magazine, write to the DPS Membership Secretary at 36 Melbourne Road, Wakefield, West Yorkshire, WF1 2RN, enclosing a stamped addressed envelope. DPS home page
Derby Lightweight Preservation Group
In the early 1950's investment was to be made in new lightweight diesel multiple unit trains the first batch of which were built at Derby in early 1954. Light alloys were extensively used for the integral body/underframe structure along with cold-formed rivets, which produced an excellent power to weight ratio, and because of this they, quickly became known as the Derby Lightweights.
For engines and transmission, Derby took the LMS Leyland 3-car set of 1938 as its prototype. However, the Leyland Lysholm Smith Torque Converters were already out of date and these initial railcars quickly became non standard.
Towards the end of 1954 the second batch of Derby Lightweights appeared this time with 150hp AEC diesel engines, a fluid flywheel and a Wilson four speed gearbox. These proved more reliable and further batches were built.
Most of the Derby Lightweights were withdrawn between 1967/69 and by 1970 the vast majority had been scrapped. Fortunately 79018/79612 were saved and entered BR's Civil Engineering Department as its new ultrasonic test train. The power car was converted into the mobile dormitory accommodation for the test crew and the trailer car was fitted out with ultrasonic test gear. For the next twenty years it toured the whole of the BR network, testing rails for any dangerous defects.
In 1990 it was withdrawn from service due to the increasing problem of getting non standard spares and the Derby Lightweight Group was formed to save the unit. In 1994 the group had raised the £31,000 to purchase the unit and have it stripped of asbestos. Following the removal of the asbestos at Doncaster Works, the unit was moved to the Midland Railway Centre.
If you would like further information or would like to make a donation towards the restoration of the Derby Lightweight then please contact Mike Evans, tel. 01530 414648 DLPG home page
EM2 Locomotive Society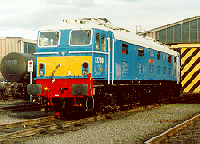 The society, owners of E27000 Electra, was formed in 1983 with the aim of repatriating a Netherlands Railways (NS) class 1500 locomotive. These locomotives had been built at Gorton, Manchester, in 1953/4 and after spending 15 years running between Sheffield and Manchester, the EM2's were sold to the NS in 1969 who overhauled them and put them into service in Holland until 1986. The Society arranged a farewell tour for the remaining loco's in that year and purchased and returned E27000 to Britain in the July. Owing to a lack of an electrified preserved railway in the UK she has remained a (fully operational) museum piece since then. In 1989 she returned (under our ownership) to Holland for the 150th anniversary of railways in that country. She performed 3100 faultless miles and then returned to Butterley for display. She remains in operational condition.
Membership of the society is open to all with an interest in railways (electric railways, particularly Woodhead, a speciality) and details can be obtained from 21 Harper Grove, Idle, Bradford, BD10 8NX. EM2LS home page
The Peak Locomotive Company
The Peak Locomotive Company is a special interest group established in 1981 by a group of diesel locomotive enthusiasts who admired the British Railways Class 44, 45, & 46 locomotives. A locomotive collection was started with the purchase of Class 44, 44004 'Great Gable' in l981, Class 46, 46045 in l992 and Class 45, 45041 'Royal Tank Regiment' in l996, all kept at the Midland Railway Centre in Derbyshire. The Company has a comprehensive technical library, an archive collection of related material and a skilled volunteer group to keep the engines running. Share ownership or supporters club membership is open to all those who admired the Peaks. Write for information sheets to: Peak Loco, 30 Newstead Drive, Westbridgford, Nottingham NG2 6LG.
Others
08 590 (Cl.08)
Built at Crewe in 1959 and delivered new to Danygraig (Swansea) depot. Subsequently allocated to many different depots on Western, London Midland and Eastern Regions. Bought by Eric Hackett in 1994 from Heaton (Newcastle) depot and delivered by road to the MRC in working order.
12077 (Cl.11)
Predecessor of Class 08 shunter, built at Derby in 1950 and delivered new to Saltly depot, withdrawn in 1971 but survived in industrial use until rescued for the MRC by a group of members in 1978. Returned to traffic 13/1/79.
D2138 (Cl.03)
Built at Swindon Works and delivered new to Gloucester depot in 1960. Withdrawn in 1969, the loco then enjoyed a second career with the NCB at various collieries until preservation.
D7671 (Cl.25)
Built in Derby in 1967 and allocated to many different depots on the London Midland Region, including Toton. Purchased by Derby Industrial Museum following withdrawal and restored as a static exhibit but then put on loan to the MRC who restored it to working order. Generator repairs have been carried out and the locomotive regularly operates on passenger services.
D2858 (Cl.02)
Requires engine overhaul and repaint. Oil leak has been repaired.
Class 114
Class 117
Class 127
Class 141
Ruston 0-4-0 (Ex Boots)
Barclay 0-4-0

---
Page produced by Dave Beecham. Last updated 17 February 2005